If you're seeking 4×4 capabilities without sacrificing fuel efficiency, check out our selection of the most economical 4×4 models.
Whether you reside in remote areas or enjoy venturing off-road occasionally, a 4×4 vehicle offers excellent off-road capability and stability across various terrains.
An economical 4×4 is a perfect choice as it provides the best of both worlds – a robust vehicle that excels on both paved roads and off-road adventures, while keeping fuel costs affordable.
Don't let the misconception of high fuel costs deter you from considering a 4×4 vehicle. With the increasing availability of hybrid models, you can enjoy the best of both worlds: off-road capability and fuel efficiency.
Volvo XC90 PHEV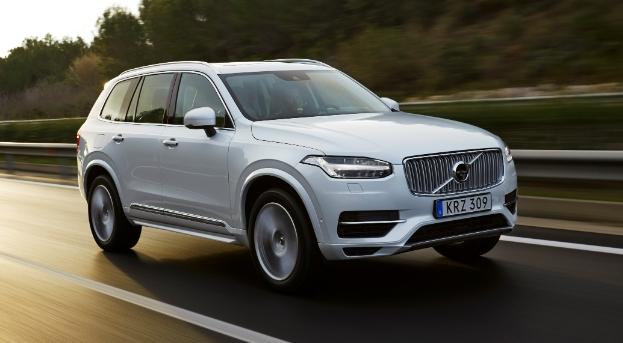 Looking for a stylish and practical SUV? Look no further than the Volvo XC90 Recharge plug-in hybrid. With its luxurious feel and spacious interior that can accommodate up to seven people, it's perfect for large families or those needing extra room. Plus, with a 356-litre boot capacity, you'll have plenty of space for all your belongings. And the best part? The XC90's plug-in hybrid technology allows you to travel up to 27 miles on electric power alone. Get ready to experience luxury, versatility, and eco-friendly driving.
With an official WLTP economy figure of 104.5mpg, the Volvo XC90 Recharge delivers impressive fuel efficiency. However, keep in mind that actual mileage may vary based on your driving style. The SUV offers various driving modes, including AWD, Hybrid, and Off-road, allowing you to adapt to different road conditions. Thanks to its smooth ride quality, you can enjoy a comfortable journey while the vehicle effortlessly handles any bumps along the way. And if you need a burst of speed, the XC90 can accelerate from 0 to 62mph in just 5.8 seconds. Experience the perfect balance of efficiency and performance.
Volkswagen Tiguan 4MOTION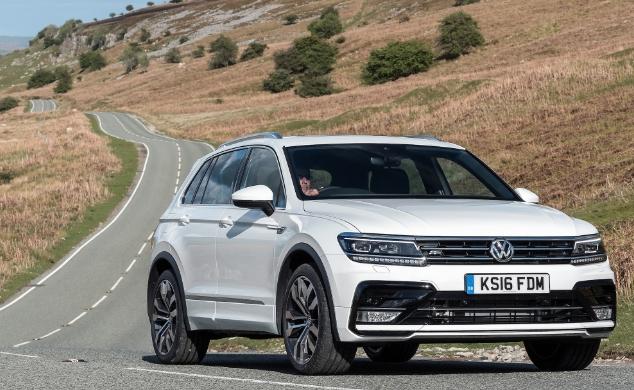 The Volkswagen Tiguan 4MOTION combines stylish design with the capability to conquer various terrains. Whether you're drawn to the on-trend appeal of an SUV or need a practical vehicle for your outdoor adventures, the Tiguan is an excellent choice. While the four-wheel-drive system enhances its off-road capabilities, it's important to note that fuel economy might be slightly lower compared to front-wheel-drive models, which is a common characteristic across all vehicles. Embrace the versatility and reliability of the Tiguan 4MOTION, designed to complement your active lifestyle.
Even with its robust capabilities, the 2.0 TDI 184 4MOTION DSG model of the Volkswagen Tiguan offers an impressive fuel efficiency of up to 49.6mpg. This means you can enjoy both power and economy on your journeys. The Tiguan is purpose-built to tackle challenging terrains, providing a thrilling driving experience. With its various driver modes, you have the freedom to customize and optimize your drive according to your preferences and the road conditions. Experience the perfect balance of performance and efficiency with the Volkswagen Tiguan 4MOTION.
Kia Sorento PHEV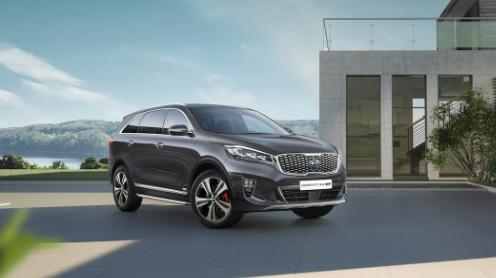 The Kia Sorento is not only a spacious seven-seater SUV but also an economical choice with its plug-in hybrid powertrain and four-wheel drive capability. With an electric range of up to 35 miles, you can enjoy emission-free driving while contributing to an impressive fuel efficiency of 176.6mpg. The combination of a 67kW motor and a 13.8kWh battery ensures a responsive and agile performance, even with its larger size. Experience the perfect blend of efficiency, versatility, and power with the Kia Sorento plug-in hybrid.
The spacious Kia Sorento offers ample storage space with a 608-litre boot in the five-seat configuration, or a still practical 179-litre boot when all seven seats are in use. Despite its generous size and impressive 4×4 capabilities, the Sorento remains a joy to drive, whether you're navigating city streets or cruising on the motorway. With selectable drive modes like Smart, Eco, and Sport, you can customize your driving experience to suit your preferences and enjoy an instant torque boost when utilizing the electric power source. Discover the versatility and exhilaration of driving the Kia Sorento.
Citroen C3 Aircross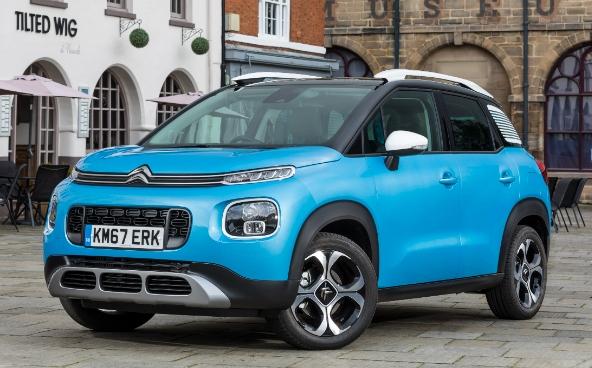 The Citroen C3 Aircross may not be a traditional 4×4, but it offers the Grip Control switchable traction control system that significantly improves its off-road capabilities. With various driving modes for different terrains and hill descent control, the C3 Aircross provides a versatile and capable driving experience. If you're unsure about needing a full 4×4, the C3 Aircross is a fantastic alternative that offers enhanced traction and control without compromising on everyday practicality. Explore the Citroen C3 Aircross and discover its off-road potential.
Experience impressive fuel efficiency with the Citroen C3 Aircross. The 1.5 Blue HDi 110 diesel model delivers up to 67.2mpg, while the 1.2 PureTech 110 petrol offers up to 51.5mpg. These figures are commendable for a crossover of this size, ensuring economical and cost-effective driving. Additionally, the C3 Aircross prioritizes safety, earning a full five-star Euro NCAP safety rating in its latest test. Drive with confidence, knowing you're in a reliable and secure vehicle. Discover the Citroen C3 Aircross for a perfect blend of efficiency, style, and safety.
Land Rover Discovery Sport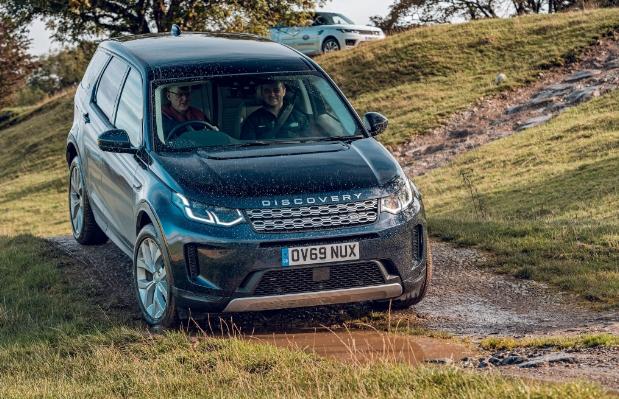 Experience the timeless appeal of the Land Rover Discovery Sport, a true icon among 4×4 vehicles. Boasting seven seats and a blend of luxury and durability, it offers the perfect combination of practicality and sophistication. Equipped with outstanding off-roading capabilities and a premium interior, the Discovery Sport is designed for those seeking an authentic off-road experience without compromising on comfort. While its powerful engines deliver impressive performance, it's important to note that the Discovery Sport's fuel economy is slightly affected due to its larger size. Embrace adventure and style with the Land Rover Discovery Sport
Experience impressive fuel efficiency with the Land Rover Discovery Sport. The diesel D250 model offers up to 33.8mpg, making it the most economical choice in the lineup. If you prefer petrol, the P360 model still delivers respectable mileage with up to 32mpg. While the Discovery Sport prioritizes fuel efficiency, it doesn't compromise on performance. With its advanced technology and all-terrain capabilities, including mild-hybrid technology, it remains a formidable machine on any terrain. Embrace the best of both worlds with the Land Rover Discovery Sport.
BMW X3 PHEV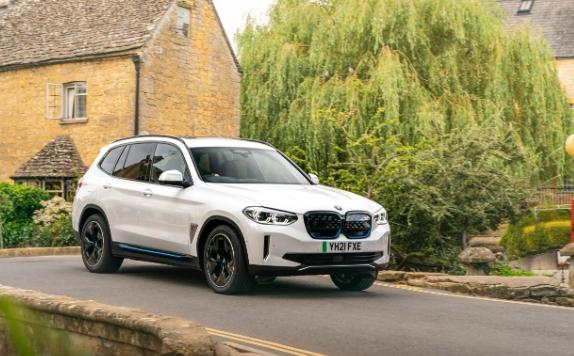 Experience the pinnacle of luxury and performance with the BMW X3 plug-in hybrid. Equipped with the renowned BMW xDrive all-wheel-drive system, this SUV effortlessly conquers challenging terrains. From its opulent cabin to its iconic exterior styling, the X3 exudes a sense of luxury and sophistication. It's a true BMW with an elevated SUV stance. While there is an all-electric variant available, the plug-in hybrid model strikes the perfect balance, ensuring you have fuel efficiency on your side. Indulge in the ultimate driving experience with the BMW X3.
Experience exceptional fuel efficiency with the BMW X3 plug-in hybrid. With an impressive 135.5mpg and an electric-only range of up to 30 miles, it's the perfect choice for urban driving. The xDrive30e hybrid option boasts the same powerful plug-in hybrid powertrain found in the acclaimed 330e model, delivering up to 252hp. Get ready for a thrilling and eco-friendly driving experience with the BMW X3.
Ford Puma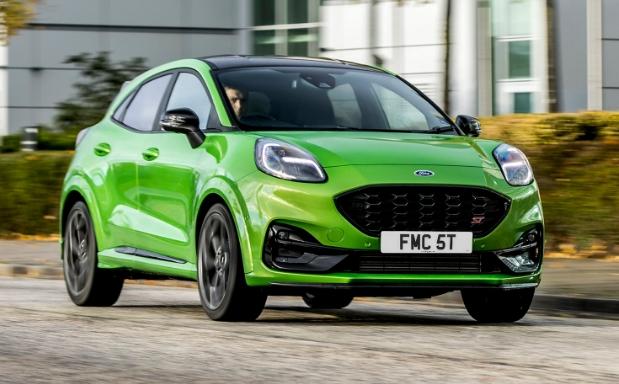 Experience the next level of driving with the Ford Puma, an upgrade from the Fiesta with a similar road feel. Stand out with its distinctive styling and enjoy the added benefit of standard all-wheel drive and a rugged SUV ride height. The Puma lineup offers a range of engine options, including the performance-focused ST model for those seeking an exhilarating driving experience.
With the Ford Puma, you don't have to compromise on fuel efficiency for added power. Enjoy an impressive 42.8mpg regardless of the model you choose. In the standard range, you have the option of two 1.0-litre petrol engines: a 125hp and a 155hp. The 125hp engine achieves up to 52.3mpg, while the 155hp delivers up to 48.7mpg. It's great to know that even with the more powerful engine, the Puma remains remarkably efficient.
Mitsubishi Outlander PHEV AWD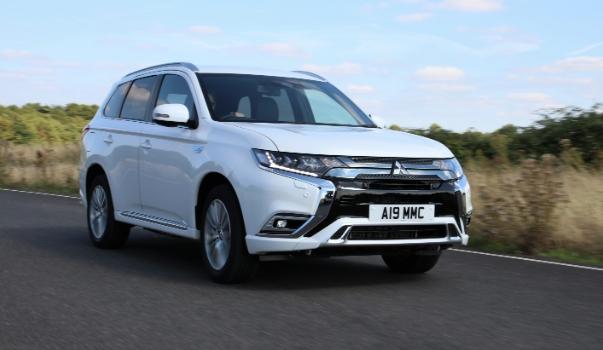 With its spacious and practical design, the Mitsubishi Outlander plug-in hybrid is the perfect choice for families. Not only does it offer ample room for passengers, but it also provides a generous 463-litre boot space, which can be expanded to a whopping 1,602 litres by folding down the rear seats. The Outlander's sleek and eye-catching exterior is accentuated by chrome accents and an imposing grille. On the road, it delivers a quiet and comfortable ride. Experience the perfect blend of style, space, and efficiency with the Mitsubishi Outlander plug-in hybrid
Experience superior traction and control with the Mitsubishi Outlander's Super All Wheel Control 4WD system, ensuring a confident drive on any terrain. With a pure electric range of up to 28 miles, you can enjoy emission-free driving for shorter journeys. The Outlander's exceptional fuel efficiency is reflected in its official rating of up to 140mpg, making it a truly economical choice. Activate the ECO mode for optimized fuel consumption, as it adjusts settings such as energy distribution to the air-conditioning system. Embrace efficiency without compromising performance in the Mitsubishi Outlander plug-in hybrid.
Nissan Qashqai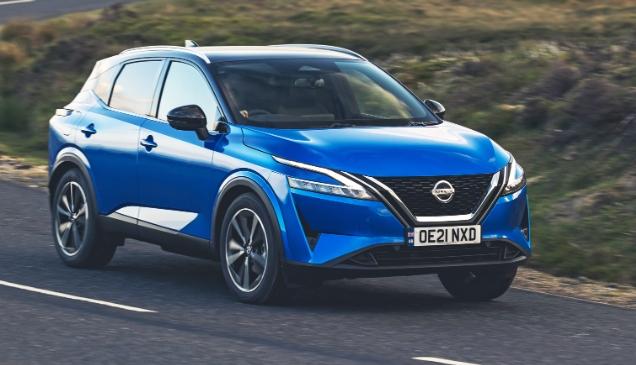 Looking for a practical family SUV that doesn't compromise on excitement? Look no further than the Nissan Qashqai. With its range of trims and the availability of a four-wheel-drive model, it offers a perfect balance of practicality and impressive technology. You have a variety of engine options to choose from, including the powerful diesel engine that comes with the option for 4×4 capability.
If fuel efficiency is a priority, the Nissan Qashqai has you covered. The 1.7 dCi 4WD model achieves an impressive WLTP figure of 46.5mpg. Opting for the automatic variation slightly reduces this to 40.9mpg. For those looking for even greener options, the Qashqai offers hybrid models and the e-Power option for all-electric motoring. It's worth noting that the other models in the range are available only as two-wheel-drive variants. Find the perfect balance of efficiency and performance with the Nissan Qashqai.
Suzuki Vitara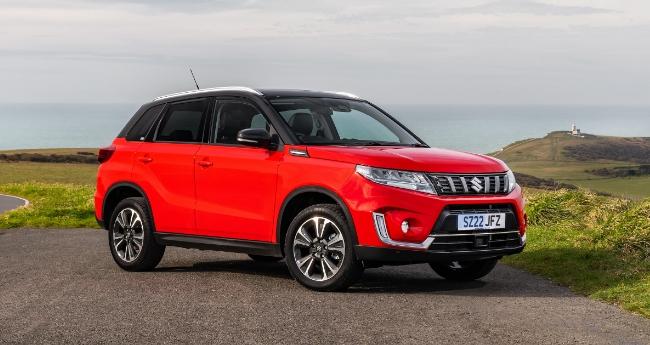 Looking for an SUV that combines urban style with off-road capabilities? Look no further than the Suzuki Vitara. With its ALL GRIP four-wheel-drive technology, the Vitara is ready to tackle any terrain while maintaining its sleek and modern appearance. The chunky grille at the front hints at its true capabilities, making it a perfect choice for those seeking a versatile and stylish SUV.
Suzuki's ALL GRIP technology equips the Vitara to conquer any weather conditions and terrains without compromising fuel economy or engine emissions. With the added advantage of a mild hybrid engine, the Vitara achieves an impressive 45.4mpg, making it highly efficient for a vehicle with 4×4 capabilities. Powering this performance is the 1.4-litre BoosterJet engine, delivering a robust 130hp. Experience the perfect blend of power, efficiency, and versatility with the Suzuki Vitara.
Maximise fuel-efficiency further
Optimizing fuel efficiency goes beyond choosing a fuel-efficient 4×4. By making a few adjustments to your driving habits, you can further improve your fuel usage. Consider reducing the use of air conditioning or adjusting it to a lower setting, as running it at high levels can consume more fuel. Similarly, moderating the heating system can help conserve fuel during your drives. Making these small changes can make a big difference in preserving petrol or diesel and enhancing your overall fuel economy.
Reducing unnecessary weight in your vehicle, such as removing roof racks, can positively impact fuel efficiency. Evaluate whether these additions are truly essential for your needs. Additionally, maintaining a steady and reasonable speed while driving your 4×4 can contribute to improved fuel economy. Avoid aggressive acceleration and braking, as these behaviors tend to consume more fuel. By adopting a smooth and controlled driving style, you can maximize fuel efficiency and get the most out of your four-wheel-drive vehicle.
Activating the eco or hybrid driving mode, if available in your vehicle, can be beneficial in improving fuel efficiency. While the effectiveness may vary based on your driving conditions, utilizing these features whenever suitable can help optimize fuel consumption. Take advantage of these modes to enhance your vehicle's efficiency and reduce your carbon footprint.