At the Cars & Bids online auction, auctions are going on for an unusual homemade product based on the 2017 Mercedes-Benz G-class SUV.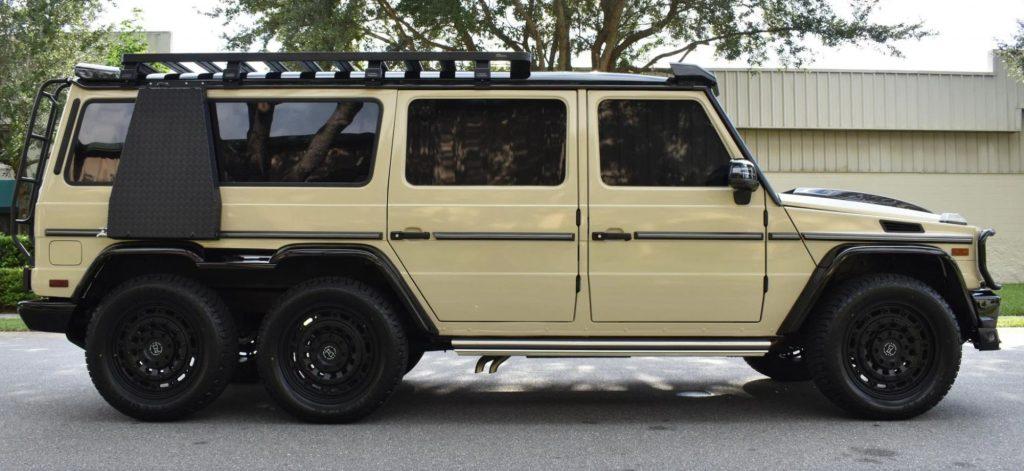 The SUV lengthened the body and added a third axle, while additional rows of seats did not appear in the cabin. Homemade mileage is less than a thousand kilometers, although it is not specified whether it was from the date of assembly at the factory or from the moment of construction. Now they are offering 80 thousand dollars for a six-wheeled Gelendvagen, but there are still three days before the end of the auction.
The increase in length is divided roughly in half between second-row passengers and the trunk. The third axle is not connected to the transmission, so the wheel formula of this SUV is 4×6. In addition to lengthening the body and the appearance of an additional pair of wheels, the car was equipped with several parts from the Brabus tuning studio – this is the front bumper, radiator grille and spare wheel cover.
The Mercedes-Benz G-Class also received 20-inch Black Rhino wheels, an expeditionary trunk and a canister fixed to the outside of the body, additional light and a ladder in the fifth door area. The beige color was given to the car with the help of a film: under it, the factory black tint was preserved.
The power unit of the SUV remained the same. Gelendvagen has all-wheel drive with three differential locks and a transfer case, and the car is driven by a 4.0-liter turbocharged V8. Develops an engine of about 420 hp. and is paired with a seven-speed automatic.
In June, one of the most unusual cars based on the Mercedes-Benz G-class, the off-road coupe Heuliez Intruder, was put up for sale. They ask for more than 200 thousand euros for a hybrid off-road chassis and a roadster-style passenger body.